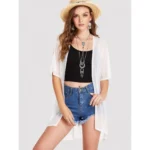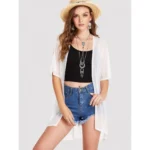 Sheer Chiffon Kimono Shrug for Women SD-656
28
people are viewing this right now
Guaranteed safe & secure checkout
Description
The Sheer Chiffon Kimono Shrug for Women is a must-have addition to your wardrobe. Designed to exude grace and sophistication, this shrug is the perfect choice for special events and occasions.
Product: The Sheer Chiffon Kimono Shrug
Key Features of The Sheer Chiffon Kimono Shrug:
Material: Made from high-quality chiffon, our Kimono Shrug offers a lightweight and sheer elegance.
Fitting: With its regular fit, this shrug complements various body types and provides a comfortable and flattering silhouette.
Sleeves: The half sleeves design adds a touch of femininity and versatility, making it suitable for both casual and formal wear.
Style and Design: The Sheer Chiffon Kimono Shrug features a delicate and intricate design that adds a layer of elegance to any outfit.
Versatile: Perfect as a layering piece, this shrug effortlessly elevates any dress or top, adding a stylish touch to your ensemble.
Easy to Style: Pair it with a simple dress or a top and jeans to instantly transform your look into a chic and fashionable statement.
Breathable Fabric: The chiffon fabric ensures breathability, keeping you cool and comfortable even in warm weather.
What Makes It the Perfect Choice for You:
Feel Confident: The Sheer Chiffon Kimono Shrug is designed to make you feel confident and beautiful. It's elegant design and flowy fabric drape gracefully, enhancing your natural beauty and adding a touch of glamour to your attire.
Versatile Styling: Whether you're attending a wedding, a cocktail party, or a casual outing, this shrug is your go-to choice for effortless style. It effortlessly enhances any outfit and allows you to express your personal style with ease.
Lightweight and Comfortable: The chiffon fabric provides a lightweight and breathable feel, ensuring utmost comfort throughout the day or evening. Move freely and confidently, knowing that you look and feel your best.
Enhances Outfits: Elevate your wardrobe with this stunning kimono shrug. It adds a layer of sophistication and completes your look, transforming a simple outfit into an eye-catching ensemble that turns heads.
Timeless Elegance: The sheer chiffon and intricate design of this shrug exude timeless elegance, making it a versatile and timeless piece that can be cherished and worn for years to come.
Disclaimer: Actual colors of the product may slightly vary from the colors being displayed on your device.
What's Included in the Box: 1 Sheer Chiffon Kimono Shrug for Women
Wash Instructions for Sheer Chiffon Kimono Shrug:
Hand wash separately in cold water.
Use a mild detergent.
Do not bleach or wring.
Hang to dry in the shade.
Iron on low heat.
Frequently Asked Questions about the Sheer Chiffon Kimono Shrug for Women:
Q: Is the Sheer Chiffon Kimono Shrug suitable for all body types?
A: Yes, the regular fit of the shrug is designed to complement various body types, providing a flattering and comfortable fit for all.
Q: Can I wear the Sheer Chiffon Kimono Shrug for both casual and formal occasions?
A: Absolutely! The versatile design of the shrug allows you to effortlessly dress it up or down. It can be worn as a stylish layering piece for casual outings or paired with elegant attire for formal events.
Q: How should I style the Sheer Chiffon Kimono Shrug?
A: There are endless possibilities to style this shrug. You can pair it with a simple dress for a sophisticated look, layer it over a top and jeans for a chic ensemble, or even wear it as a beach cover-up. Let your creativity shine!
Q: Is the chiffon fabric comfortable to wear?
A: Yes, the chiffon fabric used in the shrug is lightweight and breathable, ensuring maximum comfort even in warmer weather. It drapes beautifully and allows for ease of movement.
Q: Can I hand wash the Sheer Chiffon Kimono Shrug?
A: Yes, we recommend hand washing the shrug separately in cold water with a mild detergent. Avoid bleach and wringing, and hang it to dry in the shade. Iron on low heat if needed.
Q: Will the colors of the shrug fade after washing?
A: No, the colors of the shrug are durable and will not fade easily. However, it is always advisable to follow the care instructions provided to maintain the vibrancy of the fabric.
Q: How long does it take for my parcel to arrive?
A: The standard delivery time is 7 to 10 working days all over Pakistan. If you need your parcel sooner, you can opt for the urgent delivery service, which takes 3 to 4 working days.
Q: What should I do if I receive the wrong or faulty item?
A: You can return or exchange the item within 7 days of receiving it. Please contact our customer service team on WhatsApp and provide us with the details of your issue. We will do our best to resolve it as soon as possible. Refer to our refund or exchange policy for more information.
Q: What are the payment options?
A: We offer cash on delivery all over Pakistan. You can also pay in advance through Easypaisa or direct bank transfer. Details will be provided while placing the order.
Q: What if I cannot find the item I want on your website?
A: We are happy to customize your order according to your preferences. Simply send us your design on WhatsApp, and we will create it for you.
Experience elegance and make a statement with our Sheer Chiffon Kimono Shrug for Women. Limited stock available. Order now and elevate your style to new heights.
Additional information
| | |
| --- | --- |
| Weight | 1 kg |
| Female Size | L, M, S, XL, XS |