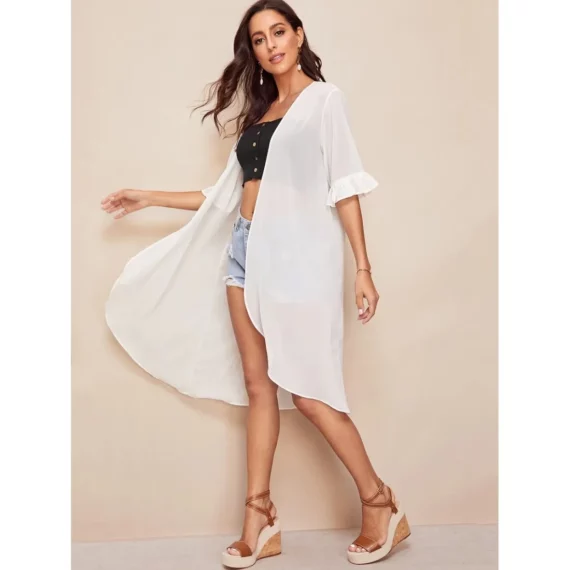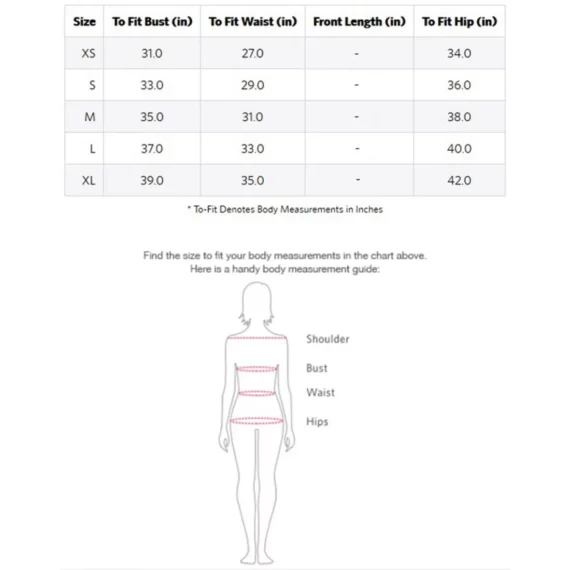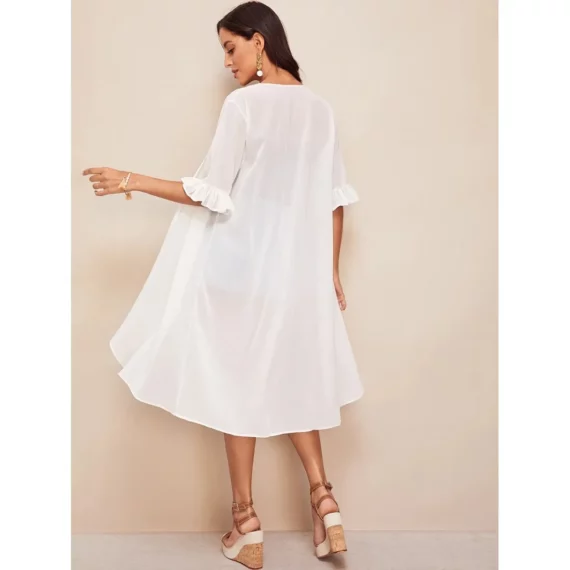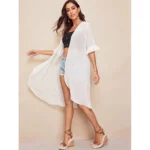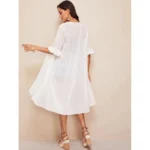 Flute Sleeves Chiffon Shrug for Women SD-654
22
people are viewing this right now
Guaranteed safe & secure checkout
Description
Introducing our elegant Flute Sleeves Chiffon Shrug for Women, a perfect choice to elevate your style for any special event. Crafted with exquisite chiffon material and featuring beautiful flute sleeves, this shrug adds a touch of grace and sophistication to your outfit. Let this stunning piece enhance your confidence and beauty as you make a grand entrance at your next occasion.
Product: Flute Sleeves Chiffon Shrug for Women
Key Features for Flute Sleeves Chiffon Shrug for Women:
Premium chiffon fabric for a luxurious and lightweight feel.
Flute sleeves add a feminine and elegant touch.
The regular fit design ensures comfort and a flattering silhouette.
Versatile style complements various outfits and occasions.
What Makes It a Perfect Choice for You:
Experience the delight of wearing a shrug that exudes elegance and charm, making you feel like a true fashion icon.
The soft and delicate chiffon fabric drapes gracefully, giving you a sophisticated and ethereal look.
The flute sleeves add a touch of drama and movement, making a statement and turning heads wherever you go.
This shrug enhances your overall style and boosts your confidence, allowing you to shine at weddings, parties, or any special event.
Disclaimer: Please note that the actual colors of the product may slightly vary from the colors displayed on your device due to variations in screen settings and lighting conditions.
What's Included:
– 1 Flute Sleeves Chiffon Shrug for Women
Wash Instructions for Flute Sleeves Chiffon Shrug for Women:
Hand wash with mild detergent to maintain the delicate fabric and preserve its quality.
Do not bleach or tumble dry. Hang to dry.
FAQs about the Flute Sleeves Chiffon Shrug for Women:
Q: Is chiffon fabric comfortable to wear?
A: Yes, chiffon fabric is comfortable to wear due to its lightweight nature and breathable properties. It allows air circulation, keeping you cool and comfortable even in warm weather.
Q: How do I care for chiffon fabric?
A: To care for chiffon fabric, it is recommended to hand wash it with a mild detergent in cold water. Avoid twisting or wringing the fabric and gently squeeze out excess water. Hang the shrug to dry or lay it flat to maintain its shape and quality.
Q: Can I wear the chiffon shrug for both casual and formal occasions?
A: Absolutely! The versatile design of the Flute Sleeves Chiffon Shrug makes it suitable for a wide range of occasions. Whether it's a casual gathering or a formal event, this shrug adds a touch of elegance to any outfit.
Q: Can I pair the shrug with different types of clothing?
A: Yes, the Flute Sleeves Chiffon Shrug complements various styles and outfits. You can layer it over dresses, tops, or jumpsuits to add a stylish flair to your ensemble.
Q: Does the shrug provide any coverage or warmth?
A: While the chiffon fabric offers a lightweight and airy feel, it provides minimal coverage and is not intended to provide warmth. It serves as a fashionable accessory and adds a layer of sophistication to your look.
Q: How long does it take for my parcel to arrive?
A: The standard delivery time is 7 to 10 working days all over Pakistan. For urgent delivery, you can opt for our express service, which takes 3 to 4 working days.
Q: What should I do if I receive the wrong or faulty item?
A: If you receive the wrong or faulty item, please contact our customer service team on WhatsApp and provide us with the details of your issue. We will assist you in returning or exchanging the item within 7 days of receiving it.
Q: What are the payment options?
A: We offer cash on delivery all over Pakistan. Additionally, you can pay in advance through Easypaisa or direct bank transfer. Payment details will be provided during the order placement process.
Q: What if I cannot find the item I want on your website?
A: We are pleased to offer customization services based on your preferences. Simply send us your design on WhatsApp, and we will create it exclusively for you.
Shop now and embrace the elegance of our Flute Sleeves Chiffon Shrug for Women. Elevate your style and make a lasting impression at your next special event. Order today!
Additional information
| | |
| --- | --- |
| Weight | 1 kg |
| Female Size | L, M, S, XL, XS |