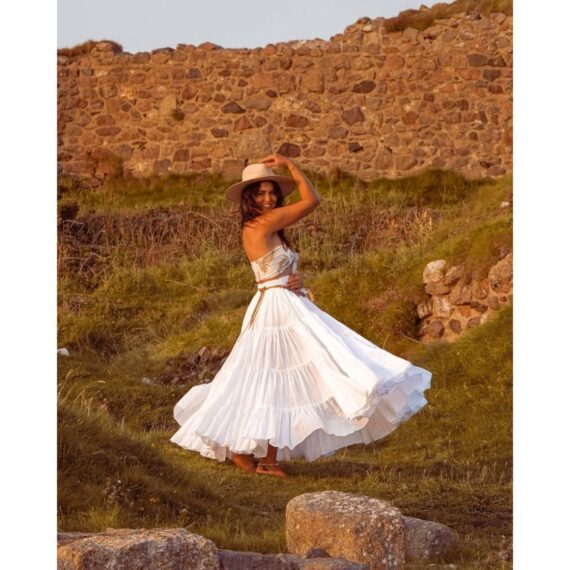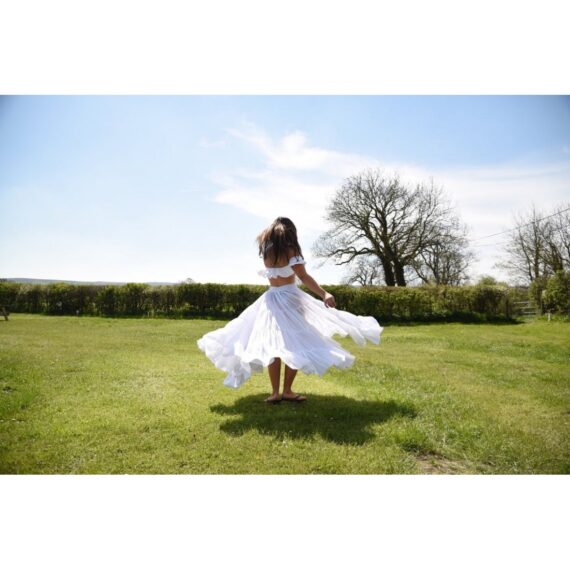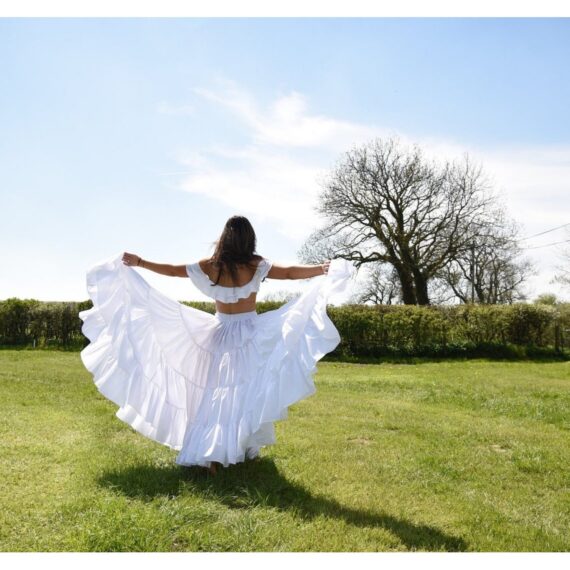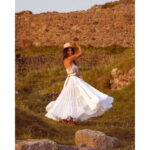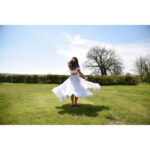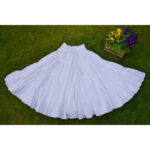 Long Paneled Cotton Skirt SM-733
22
people are viewing this right now
Guaranteed safe & secure checkout
Description
Indulge in timeless elegance with our Long Paneled Cotton Skirt. Designed to make you feel confident and beautiful, this skirt is a must-have for your wardrobe. Crafted with care and attention to detail, it combines the comfort of cotton with a captivating design that will make heads turn. Whether you're attending a special event or simply want to add a touch of sophistication to your everyday look, this skirt is the perfect choice.
Product: Long Paneled Cotton Skirt
Key Features of Long Paneled Cotton Skirt:
Premium-quality cotton fabric for ultimate comfort and breathability
Regular fit that flatters your silhouette and allows easy movement
Long length with round circle panels for a stylish and unique design
Versatile styling options, suitable for both formal and casual occasions
Durable construction that ensures long-lasting wear
Available in a range of beautiful colors to suit your personal style
Easy to care for, simply follow the provided wash instructions
What Makes It the Perfect Choice for You:
Feel like a true fashion icon with this stunning cotton skirt
Embrace the luxurious feel of high-quality cotton against your skin
Experience the confidence boost that comes with wearing a well-crafted, elegant skirt
Stand out from the crowd with the eye-catching round circle panel design
Enjoy the versatility of this skirt, effortlessly transitioning from day to night
Elevate your style game and receive compliments on your impeccable taste
Experience the comfort and freedom of movement provided by the regular fit
Enhance your wardrobe with a timeless piece that never goes out of style
Disclaimer: Actual colors of the product may slightly vary from the colors being displayed on your device.
What's Included in the Box: 1 Long Paneled Cotton Skirt
Wash Instructions for Long Paneled Cotton Skirt:
Machine wash cold with similar colors
Gentle cycle
Do not bleach
Hang to dry
Iron at low temperature if needed
FAQs about Long Paneled Cotton Skirt:
Q: Can I wear this skirt for both formal and casual occasions?
A: Absolutely! This versatile skirt is designed to suit various occasions. Pair it with a blouse or blazer for a formal look or dress it down with a casual top for a more relaxed style.
Q: How should I care for the cotton skirt?
A: To keep your cotton skirt in great condition, we recommend machine washing it on a gentle cycle with similar colors. Avoid using bleach and hang it to dry. If needed, you can iron it at a low temperature.
Q: Can I choose the color of the skirt?
A: Absolutely! you can ask for any color. just ask our team on the confirmation call after placing your order.
Q: Can I return or exchange the skirt if it doesn't fit me?
A: Yes, we have a hassle-free return and exchange policy. If the skirt doesn't fit you or meet your expectations, you can return or exchange it within 7 days of receiving it. Please contact our customer service team for assistance.
Q: Is the skirt suitable for all seasons?
A: The Long Paneled Cotton Skirt is designed to be comfortable throughout the year. Its breathable cotton fabric makes it suitable for warmer months, while you can pair it with tights or leggings for added warmth during colder seasons.
Q: Can I style this skirt with different tops and accessories?
A: Absolutely! The Long Paneled Cotton Skirt offers endless styling possibilities. Pair it with a fitted top, a flowy blouse, or a trendy crop top. Accessorize it with statement jewelry, a belt, or a scarf to create your unique look.
Q: Is the skirt made with sustainable practices?
A: At Ajmery Pakistan, we are committed to sustainable and ethical practices. The Long Paneled Cotton Skirt is crafted with care, ensuring quality and eco-conscious production.
Q: How long does it take for my parcel to arrive?
A: Standard delivery time is 7 to 10 working days all over Pakistan. For faster delivery, opt for the urgent delivery service, which takes 3 to 4 working days.
Q: What should I do if I receive the wrong or faulty item?
A: You can return or exchange the item within 7 days of receiving it. Contact our customer service team on WhatsApp and provide details of the issue. We'll resolve it promptly. Refer to our refund or exchange policy for more information.
Q: What are the payment options?
A: We offer cash on delivery all over Pakistan. You can also pay in advance through Easypaisa or direct bank transfer. Payment details will be provided during the order placement.
Q: What if I cannot find the item I want on your website?
A: We're delighted to customize your order according to your preferences. Simply send us your design on WhatsApp, and we'll create it for you.
Please note that the above FAQs are for informational purposes only and may vary based on the specific product details. For any additional inquiries, please feel free to contact our customer service team.
Don't miss out on owning this exquisite Long Paneled Cotton Skirt. With its impeccable style and superior quality, it's a wardrobe essential that will elevate your fashion game. Shop now and embrace the timeless elegance of our cotton skirt. Hurry, limited stock available!
Additional information
| | |
| --- | --- |
| Weight | 1 kg |
| Female Size | L, M, S, XL, XS, Custom Size |
| Color | White |
Brand
Ajmery Pakistan
"Introducing the ultimate fashion destination for men, women, and couples! With 7 years of experience in the fashion industry, our clothing brand offers a wide range of stylish and trendy nightwear, sportswear, eastern and western dresses. Whether you're lounging at home or hitting the gym, we've got you covered. Plus, as a multi-vendor website, we offer a diverse selection of styles and designs to suit every taste and budget. So why wait? Shop now and elevate your fashion game with our must-have pieces!"