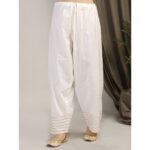 Gotta Laced Shalwar for Women SM-410
25
people are viewing this right now
Guaranteed safe & secure checkout
Description
Introducing our Gotta Laced Shalwar for Women, a perfect blend of elegance and tradition. Crafted from high-quality cotton, this regular fit shalwar is designed to enhance your beauty and make you feel confident at any special event. The intricate gotta lace detailing at the hem adds a touch of sophistication, making it a perfect choice for those seeking timeless grace.
Product: Gotta Laced Shalwar
Key Features of Gotta Laced Shalwar:
Material: Made from premium quality cotton, ensuring utmost comfort and breathability.
Fitting: Designed in a regular fit to flatter your silhouette and provide ease of movement.
Style and Design: Features a classic cotton shalwar design with exquisite gotta lace detailing at the hem, adding a touch of elegance and charm to your ensemble.
What Makes It the Perfect Choice for You:
Effortless Elegance: The combination of the traditional shalwar design and the delicate gotta lace creates a visually stunning and graceful look, making you feel like a true embodiment of beauty.
Comfortable All Day: The soft and breathable cotton fabric ensures optimal comfort, allowing you to wear the shalwar for extended periods without any discomfort or irritation.
Versatile Appeal: The timeless design of the gotta laced shalwar makes it suitable for various occasions, whether it's a wedding, festival, or any celebratory event.
Embrace Tradition: Embody the rich cultural heritage with this intricately designed gotta lace shalwar, showcasing your appreciation for traditional craftsmanship.
Confidence Booster: When you feel comfortable and stylish, your confidence soars. This gotta laced shalwar empowers you to embrace your true beauty and radiate self-assurance.
Disclaimer: Please note that the actual colors of the product may slightly vary from the colors displayed on your device.
What's Included in the Box:
– 1 Gotta Laced Shalwar for Women
Wash Instructions for Gotta Laced Shalwar:
Machine wash cold
Gentle cycle
Do not bleach
Tumble dry low
Iron on low heat
Frequently Asked Questions (FAQs):
Q: What type of fabric is the Gotta Laced Shalwar made of?
A: The Gotta Laced Shalwar is crafted from high-quality cotton fabric, ensuring both comfort and breathability.
Q: Can I wear the Gotta Laced Shalwar for formal occasions?
A: Absolutely! The Gotta Laced Shalwar is designed to add a touch of elegance to any occasion, including formal events. The intricate gotta lace detailing elevates the overall look, making it a perfect choice for special gatherings and celebrations.
Q: Can the shalwar be paired with other traditional garments?
A: Yes, the Gotta Laced Shalwar can be easily paired with various traditional garments such as kurtas, tops, or tunics. It complements a wide range of styles, allowing you to create unique and fashionable ensembles.
Q: Is the Gotta Laced Shalwar available in different sizes?
A: Yes, the Gotta Laced Shalwar is available in multiple sizes to accommodate different body types and preferences. Please refer to our size chart for accurate measurements and select the size that best fits you.
Q: Can I wear the Gotta Laced Shalwar for casual outings?
A: Certainly! The Gotta Laced Shalwar offers a versatile style that can be dressed up or down depending on the occasion. It can be worn casually for outings, gatherings, or even everyday wear, allowing you to showcase your unique fashion sense.
Q: Does the shalwar come with a drawstring or elastic waistband?
A: The Gotta Laced Shalwar features an elastic waistband, providing a comfortable and adjustable fit.
Q: Does the shalwar require any specific accessories or styling?
A: The Gotta Laced Shalwar is versatile and can be styled in various ways. You can pair it with traditional jewelry, embroidered tops, or statement accessories to enhance its overall look. Experiment with different combinations to create your desired style.
Q: How long does it take for my parcel to arrive?
A: The standard delivery time is 7 to 10 working days all over Pakistan. If you need your parcel sooner, you can opt for our urgent delivery service, which takes 3 to 4 working days.
Q: What should I do if I receive the wrong or faulty item?
A: We apologize for any inconvenience caused. You can return or exchange the item within 7 days of receiving it. Please contact our customer service team on WhatsApp and provide us with the details of your issue. We will do our best to resolve it as soon as possible. Refer to our refund or exchange policy for more information.
Q: What are the payment options?
A: We offer cash on delivery all over Pakistan. You can also pay in advance through Easypaisa or direct bank transfer. Payment details will be provided during the order placement process.
Q: What if I cannot find the item I want on your website?
A: We value your preferences and are happy to customize your order. Simply send us your design on WhatsApp, and we will create it according to your specifications.
Don't miss out on this exquisite Gotta Laced Shalwar! Embrace the allure of tradition and radiate elegance. Place your order now to add a touch of sophistication to your wardrobe.
Additional information
| | |
| --- | --- |
| Female Size | 26, 28, 30, 32, 34, 36 |
Brand
Basic By Behtreen
Basic By Behtreen is a clothing brand that is focused on creating classic and timeless pieces that can be worn season after season. The brand is known for its simple, yet elegant designs that are versatile and can be dressed up or down depending on the occasion. They specialize in creating basics such as t-shirts, sweaters, and denim that are made of high-quality materials and are designed to last for a long time.The brand's aesthetic is minimalistic, and they are all about creating clothing that is easy to wear, comfortable, and can be paired with a variety of other pieces. They are also known for their attention to detail and craftsmanship, ensuring that each piece is made to the highest standard.Basic By Behtreen is a great choice for anyone looking for clothing that is easy to wear, versatile, and long-lasting. They offer a wide range of sizes, making it easy for customers to find the perfect fit. With their focus on simplicity and quality, Basic By Behtreen's clothing is perfect for building a wardrobe of timeless, versatile pieces that you'll love for years to come.